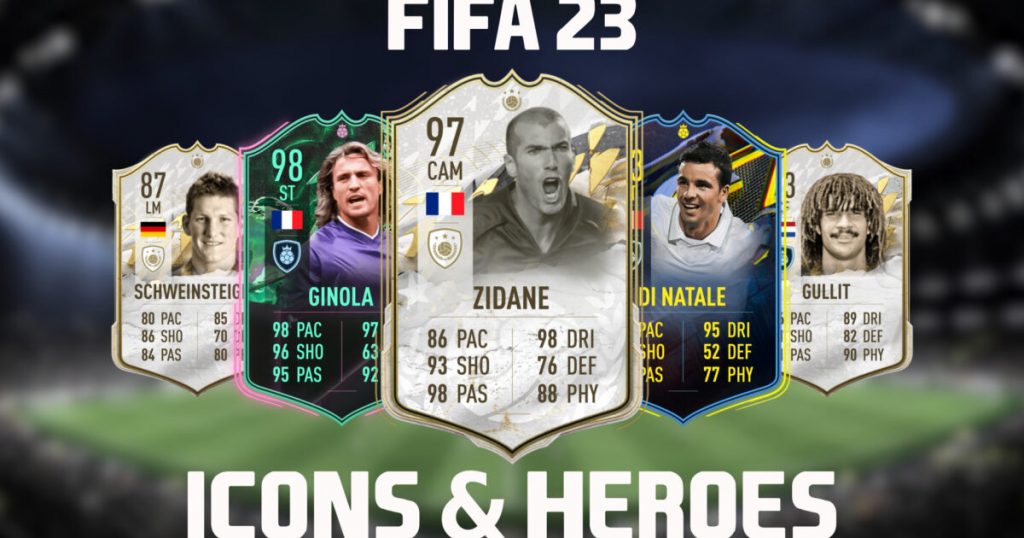 While FIFA 23 is expected to introduce new features like World Cup content and possible cross-play, Ultimate Team fans will likely be looking forward to these FIFA 23 returning features. One of these returning features is FUT's new icons and hero cards, one of the most popular items in the game. They are special rare player cards in FIFA Ultimate Team based on legendary football players over the years and replicate their timeline in four different cards. We'll cover everything you need to know about FUT's new icons and hero cards in FIFA 23 below. If you want to get FUT icons and hero cards in advance, it is recommended that you buy plenty of FIFA 23 coins in case you need them.
What is a FUT Icon Card?
Icon cards honor the best players who have graced the pitch throughout football history. For starters, each Icon card comes in three versions: Basic, Intermediate and Prime. Each edition is an ode to the player's career from entering the stage to becoming a global superstar. Not only do Icon cards usually have high overall ratings, but they provide the chemistry of the players on your team regardless of league or country. Additionally, they will provide strong links for players who share the same country, making them ideal for building mixed squads.
FIFA 23 Icon Leaked
Romario – Brazil
The first touted name on the FIFA 23 ICON roster is Brazilian icon Romario. The striker scored more than 750 goals in his career, but today, as a member of Brazil's Federal Senate, he does get involved in some politics. But the accuracy of the information will not be made clear until official sources provide clarification.
A-Z of the confirmed FIFA 23 icons
Gabriel Batistuta (Argentina) – FUT Icon
Rudi Voller (Germany) – FUT Icon
Gerd Müller (Germany) – FUT Icon
Zico (Brazil) – FUT Icon
Jairzinho (Brazil) – FUT Icon
What is a FUT Hero Card?
FUT heroes have unique league-specific chemistry that ties into their specific hero moments. Those players have retired, and the moment comes from a specific game, like scoring a hat-trick in a huge game.
FIFA 23 Hero Cards Leaked
While EA has yet to confirm if this is true, several FUT leakers have hinted that the same batch of FUT hero cards from FIFA 22 will be returning to FIFA 23 along with the new additions.
This will mirror the approach of adding new icon cards to the game, returning the same name every year except for a few new faces. FIFA leaker FUT Sheriff has slowly revealed the new names we can expect, including Marchisio, Yaya Toure and Lucio.
Here is the full list of expected FIFA 23 FUT Hero players:
Diego Forlan (Uruguay) – FUT Heroes
Yaya Toure (Ivory Coast) – FUT Heroes
Claudio Marchisio (Italy) – FUT Heroes
Landon Donovan (United States of America) – FUT Heroes
Dirk Kuyt (Netherlands) – FUT Heroes
Juninho (Brazil) – FUT Heroes
Lucio (Brazil) – FUT Heroes
Ledley King (England) – FUT Heroes
Peter Crouch (England) – FUT Heroes
Jean-Pierre Papin (France) – FUT Heroes
Sidney Govou (France) – FUT Heroes
Rafael Marquez (Mexico) – FUT Heroes
Tomas Brolin (Sweden) – FUT Heroes
Ji-Sung Park (South Korea) – FUT Heroes
Ricardo Carvalho (Portugal) – FUT Heroes
Harry Kewell (Australia) – FUT Heroes
Saeed Al Owairan (Saudi Arabia) – FUT Heroes
Atsuto Uchida (Japan) –FUT Heroes
Joan Capdevila (Spain) – FUT Heroes
Diego Simeone (Argentina) – FUT Heroes
That's all we know about the leaked details of FIFA 23's Icon Cards and Hero Cards so far, and we'll be updating on mmorpgm.com with any information in the future. We also recommend that you can purchase FUT 23 coins in advance to equip and upgrade your player cards and teams.