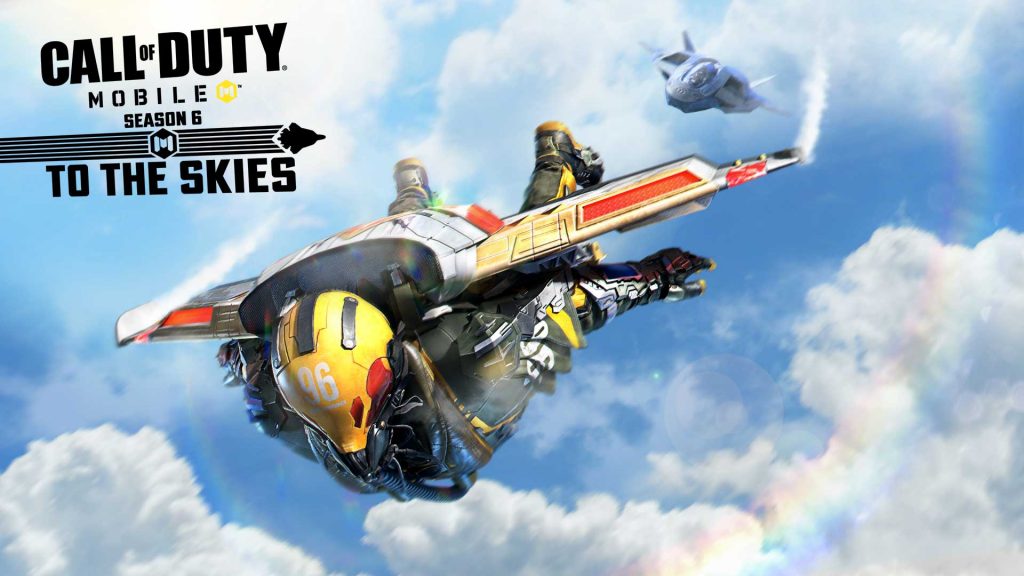 Dust off your flight suit and get ready for heart-pounding aerial combat and dogfights in the latest COD Mobile Season 6 2022 To The Skies update. With new free and premium content including operators like Sophia – Shadow and Wraith – Disruptor, new weapons like KSP 45, Weapon Blueprints, Calling Cards, Charms, COD Points (CP) and more coming throughout the season, Players will have the opportunity to earn 50 new tiers of Battle Pass rewards in Season 6: Rush to the Sky. You can buy Call of Duty Mobile Top Up to unlock more game modes and keep playing in real matches.
COD Mobile Season 6 2022 To The Skies Update
1. Brand new battle royale air combat system
For the first time ever, players in Battle Royale mode will be able to use missiles and Gatling weapons in aerial combat with other pilots of the Jackal fighter.
2. Anti-aircraft weapons
In addition to the new jets, new anti-aircraft guns spread across the map provide ground artillery support to counter the pilots in the air, which isn't the only means of combat in Battle Royale.
3. Slum Map
As previously reported in Season 6 leaks, the favela is a favela in Rio de Janeiro that recently appeared in Call of Duty: Ghosts. It's a multi-level terrain with tall buildings for sniping, narrow alleys for close quarters combat, and open football pitches for larger fights.
4.JACKAL: Cheer themed activities
Provide Alias Jackal with fuel and modifications so she can reach max speed as part of helping her. Play battle royale or multiplayer games to earn fuel, and complete daily activities to earn upgrade tokens. The more improvements and gas you have, the faster you travel.
5. New seasonal challenges
You may earn up to 30,000 Battle XP as you complete new seasonal challenges that offer rewards like L-CAR 9, new weapon blueprints, and operator skins. SP-R 208 – Top Turtle can also be unlocked.
6. Summer Sale
Celebrate the start of summer with the sale from July 3rd to July 24th (UTC). The sale will feature reruns of the Rising Tides Draw, with discounted crates and new deals every day, including To the Skies and summer themes. Discounts range from 10% to 35% of the original purchase price.
7. Store update: Alias leads a new round of sweepstakes
Alias – The Roboticist – leads the new season with Legendary draws that include her, Legendary Weapon Blueprints for the new Auto Pistol, and other key gear like Alias' Wrench and Tank skins.
Operators like Kryptis – Sky's Fury, Stitch – Carbon Sentinel, Nikto – Devil's Legion, Firebreak – Magmageddon and Nyx – Dragoon are among the other draws for Season 6. Draw blueprints for KRM-262, M13, KSP 45 and LK24 weapons. Get these, along with tons of support resources, and fly higher.
New Season 6 Battle Pass
To The Skies will bring a new Battle Pass. As usual, the pass will be divided into free and premium.
Free tiers
Here are the highlights of the free tier:
KSP 45: New triple burst submachine gun unlocked at level 21
Level 50 Sky Sentinel calling card
In addition, players can unlock weapon blueprints, camouflages, COD points, and more.
Premium tiers
Here are the highlights of the premium level:
KSP 45: The new SMG with three bursts
Operator skins include Wraith – Disruptor, Reyes – SCAR Pilot, Sophia – Shadow and Ethan – Flying Sharks
Weapon Blueprints for Chicom, JAK-12, Locus and Man-O-War
In addition to new seasonal challenges, lucky draws, and other features that will be available in the store at launch and throughout the season, players can look forward to several game updates and Enhancements. If you want to unlock more game modes in the game, you will need Call of Duty Mobile CP to buy it in the store.